Northumbria police receive 83 reports of domestic violence a day. On a busy Friday night in Tyne and Wear, we join a police patrol that has joined forces with a local women's refuge to tackle the epidemic of abuse
PC Chris Dymond on the domestic violence patrol, Tyne and Wear.
PC Chris Dymond on the domestic violence patrol, Tyne and Wear.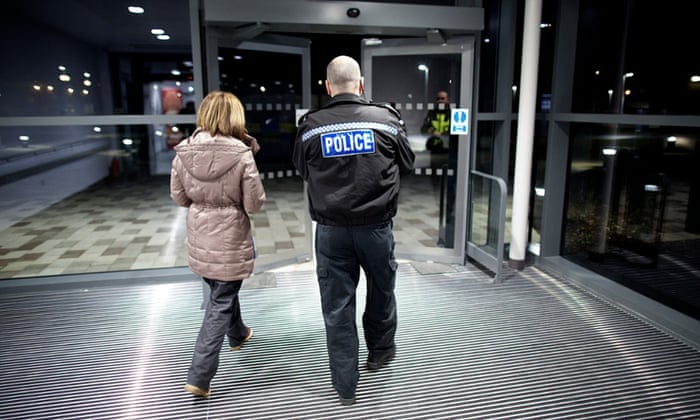 Monday 30 March 2015 18.11 BST Last modified on Tuesday 7 April 2015
In the sitting room of a 60s semi, Keith sits with his head in his hands, groaning quietly and rocking back and forth. Jenny is standing. She looks stunned. There is a visible mark around her neck. It is 10.34pm and PC Chris Dymond is attending the first domestic violence call of his shift. Walking into the room is like stumbling on an unfinished scene from a play; the aftermath of something. Dymond is not quite sure what. Whatever pitch of adrenaline once filled the space has dissipated. In its place is a sense of confusion and disbelief.
Two police officers stand over Keith, who is slurring his words, while in the corner of the room a petite woman sits on the L-shaped sofa and gestures towards Jenny, Keith's wife. On the facing wall is a large poster that reads: "I love you to the moon – and back."
Jenny sinks her weight into the cushions and something releases. She begins to cry. "What happened, love?" the woman asks.
It's a Friday night in Washington, Tyne and Wear, a once-strong mining village in County Durham transformed into a new town in the mid-60s, just before the last pit closure in 1968 put nearly 1,300 people out of work. This Friday (the last of the month) is payday – a date in the calendar such as Christmas, the football World Cup and a local derby, when experience dictates there is likely to be a spike in domestic violence.
Northumbria police cover an area that stretches south from the Scottish border across rural Northumberland and into the densely populated urban centres north and south of the Tyne, Newcastle, Gateshead and east into Sunderland. The force receive 83 reports of domestic violence each day.
Claire Phillipson from Wearside Women in Need accompanies the local police on domestic violence callouts. Facebook Twitter Pinterest
Claire Phillipson from Wearside Women in Need accompanies the local police on domestic violence callouts. Photograph: Christopher Thomond for The Guardian./Christopher Thomond for the Guardian
Each time officers respond, they cross the threshold into the private lives of men and women, some of whom they have never met before, others who are repeat victims and perpetrators. They know that making a mistake could be costly. "In the back of your mind, you are always thinking, what if he comes back in three hours' time and kills her?" says Dymond.
Last year the police watchdog, Her Majesty's Inspectorate of Constabulary (HMIC), condemned police forces for alarming and unacceptable weaknesses in their responses to domestic violence, a crime that pervades every part of society, takes the lives of an average of two women a week, and costs the economy more than £15bn a year. The Northumbria force was one of a handful singled out for praise. In the midst of crippling budget cuts of more than £120m, under the leadership of two women – Vera Baird, the police and crime commissioner and the chief constable, Sue Sim – domestic violence is a priority.
Their latest innovation is something that has never been tried before in England and Wales. It involves teaming a police response officer in a patrol car with a worker from the women's refuge; a simple idea, but one which marks how much work has been done – certainly in Northumberland – to build trust between the police and the feminists who forged the first women's refuges more three decades ago, when those in uniform were the enemy.
Vera Baird: domestic abuse is not just an issue for the police
Read more
Where before a police response officer would hand out a card for Wearside Women in Need to a victim after a 999 callout, now the refuge worker arrives with the officer. The patrol operates on Friday and Saturday nights in Sunderland and Newcastle, and at peak times, during the World Cup and the summer holidays, three nights a week. From 19 December – known as Black Eye Friday when employees sign off work for the holidays – until 4 January this year, they worked continuously.
Advertisement
While the officer gathers evidence, the refuge worker talks to the victim, offers support services, arranges a followup and in some cases, may even remove the woman to a place of safety immediately.
Tonight it is Claire Phillipson, who has been at the forefront of protecting vulnerable women for more than 30 years, on patrol with Dymond. She sits next to Jenny in her living room, quietly taking in what the young woman is telling her. What she says is illustrative of how nuanced domestic violence work is. "I think I've been strangled," Jenny says. "I can feel the bruise on my neck. Is there a mark? He punched me in the head." Keith finally looks up at his wife; there is blood oozing from a wound over his ear, and his eye socket is red and swollen where he too has been struck.
"I want to press charges," he says.
Over the next few minutes Phillipson and Dymond extract details of what has happened to the couple. It was Jenny's brother who attacked them in their home after a family party in the local bowling club, launching first at his sister, punching her in the head and locking his hands around her neck before turning on her husband. After 20 minutes, Phillipson promises she will call Jenny in the morning to see how she is, before she and Dymond leave, while their colleagues wait with Keith for an ambulance.
Phillipson sits alongside Dymond in the van, listening as the radio crackles over another call-out. Despite the HMIC criticism, and the high-profile cases where women have died, Phillipson believes there has been nothing short of a revolution in the past 30 years in the way domestic violence is regarded and responded to by the police. Anything less and she would not be sitting alongside a police officer.
One time I went out to the home of a heavily pregnant woman; there were bite marks all over her stomach
Her entry into domestic violence work was born out of personal experience. "A friend I knew got raped," she said. "I was furious about how the police and the courts treated her. He was found not guilty even though he had admitted she had told him, no, no no. I was incensed with the police. Then I got attacked coming home from work one evening. I didn't know there had been six or seven other attacks on women in the same place. What did you do back then as a radical feminist? There was only one outlet – I put an advert in Spare Rib: "Does anyone want to do anything about violence against women?"
In 1982, she opened the first women's refuge in Washington. "When a violent man turned up at the refuge, the police wouldn't come out," says Phillipson. "We faced shotguns, axes, batons and the police wouldn't respond. It was absolutely terrifying. I would be called out alone to a woman's home to face some lunatic man, and the police would just hang back outside. One time I went out to the home of a heavily pregnant woman; there were bite marks all over her stomach. Her husband was sitting there and the police officer said to his wife: 'You don't want to go with that lesbian cunt, children need two parents.'
"But of all the agencies who have changed and listened, it is the police who have changed the most."
She pauses as the control room passes on details over the radio of a woman unconscious outside the Duke of Norfolk pub, just round the corner. Not all of the DV patrol's work is conducted behind the closed doors of a private home.
'Why abused women need more than refuges'
Read more
As the van pulls up in a deserted street outside a long-closed pub, its bins overflowing, the CCTV camera on its wall hanging uselessly from a wire, a child peers out of an upstairs window. In an ambulance there is a young woman who has just come round after being knocked unconscious.
Phillipson and Dymond climb out, but soon the officer returns. "She won't tell the police what happened," Dymond says. "Claire is in there now, she may tell Claire. You get that sometimes, the victim won't speak to the police because they don't want anything to do with us."
Some statistics gathered since the pilot began in November 2013 are stark. Before the DV patrol, only 1% of victims of domestic violence who had called the police would make contact with Wearside Women in Need afterwards. Now 55% of victims are in contact following an incident. Only 12 out of 155 domestic violence victims seen have refused a service from Wearside Women in Need; 92% took up their offer of help.
Phillipson and Dymond 's patrol takes them all across the local area, but some times of year, like Christmas, are busier than others Facebook Twitter Pinterest
Phillipson and Dymond 's patrol takes them all across the local area, but some times of year, like Christmas, are busier than others. Photograph: Christopher Thomond for the Guardian
Three weeks ago, Chris, a married woman in her 50s, called 999 as she crouched in the bathroom of her house in Sunderland. She couldn't talk in case her husband heard, but the police control room traced the location from the phone she had hidden under a towel.
Her husband had only been home for six weeks, after an assault in June last year in which he elbowed her violently in the stomach, fracturing her sternum. "I kicked him out, but then Christmas came and I listened to him when he said he wouldn't do it again. I let him back home," she says.
It was the early hours of Saturday morning when she called for help. She had been out with friends from work, and arrived home late; too late for her husband. "He slammed the clock into my face to show me what time it was," says Chris. "He got two cans and shoved them into my face, then poured the beer all over me. Then he smashed up the kitchen. He frightened the dog so much she wet herself. It went on for about an hour. I managed to take myself upstairs with the dog; I crouched in the bathroom and called the police."
Her husband was arrested. Moments later Helen, a Women in Need refuge worker, was at her side. "This isn't my first DV incident," Chris explained. "I have been in touch with Women in Need for two years, but on the telephone. But because Helen was there so quickly, I found it really helpful. She was able to understand me. She just sat down and talked to me about what had happened, how it started, what went on and because she was there so instantly, I was able to tell her everything."
After that night, Chris followed up by attending her first one-to-one meeting with a refuge support worker at Women in Need. She has now signed up to an over-50s support group for victims of male violence. "That's it now," she says. "That's the last time. I gave my husband his last chance, but within six weeks he did it again. He's gone now and I won't let him back."
She is blaming herself, which is very typical behaviour, and she is terrified social services will take her child away
Many years younger, but already the victim of repeat domestic violence from two partners, the young woman in the ambulance outside the Duke of Norfolk finally opens up to Phillipson. Her partner is far away, arrested for being drunk and disorderly. Police suspect he attacked her, and are waiting to rearrest him for assault, but first she needs to talk.
Phillipson emerges with more pieces of the jigsaw eked out of the terrified young woman. "I am pretty sure he's attacked her, she is really scared," she says. "He's got previous for violence against other women, she has had previous domestic violence and there is a child involved. His family are very controlling and her dad has been abusive. She is blaming herself, which is very typical behaviour, and she is terrified social services will take her child away – she is in a state of anguish about that. If I can work with her, ultimately I would hope to get her into a refuge."
Two hours later, into the early hours of Saturday morning, on the other side of Sunderland, where detached houses are hidden from the road by oak trees and garden walls, the team pulls up outside a mock Georgian terrace built as luxury flats. Two police cars are already there, parked between the convertibles and BMWs.
Eventually a thickset young man appears with police officers, carrying a packed bag on his shoulder. In the doorway a young woman stands watching. Phillipson is with her. The man, clearly upset, gets in his car and drives away.
After 20 minutes Phillipson emerges with Dymond. They get into the van and are silent for some time. When eventually they speak, Phillipson describes the scene inside the executive flat. "There are holes in the walls, everything has been smashed and thrown around. He has bitten her. She doesn't want to talk to anyone; she is confident, she seems in control, she doesn't want him arrested. He has left saying it is unfair, he is the injured party."
There is nothing the team can do. They leave, still deep in their thoughts. It is now nearing the end of their shift.
As they arrive at Washington police station to sign off, Phillipson speaks again, clearly concerned. "This is the thing with domestic violence, it's very, very difficult. Here you have a very confident woman, who doesn't say she has been attacked, who didn't want us there, who says she has her own support network." Her words echo those of her police colleague: "So we leave, but what happens – what happens, if in three-quarters of an hour he comes back and stabs her?"
All victims' names and crime scene addresses have been changed.
• This article was amended on 31 March 2015 to remove identifying details.